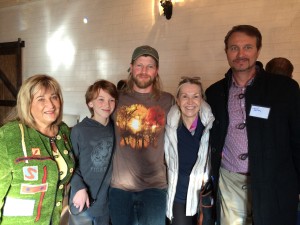 Paola Harris, William Keeble and his son, Jennifer Stein and Tom Hamblin, at the 40th anniversary Conference in Heber, AZ, November 5th, 2015.
UPCOMING SCREENINGS
Philip  K. Dick  Film Festival
New York City
Saturday, January 16, 2016 at 6 pm
Film will be followed by a panel with producers, Jennifer Stein  & Bob Terrio, and participants  Peter Robbins and Lee Speigel.
Location: Cinema Village Two, 181-189 2nd Ave, New York, NY 10003
(212) 529-6998
Travis: The True Story of Travis Walton
Driving home after a day of clearing underbrush in the Sitgreaves National Forest, seven loggers come upon a 40 foot shiny disc hovering on the crest of a ridge. As if spellbound, Travis jumps from the passenger side of their work truck and runs toward the craft for a closer look.
That decision November 5, 1975 would change him and these loggers forever.
Travis's story became a book called Fire in the Sky and a movie (1993). The Paramount Picture feature film enhanced his "close encounter of the third kind," (a term coined by ufologist J. Allen Hynek denoting human observations of actual aliens or "animate beings").
The Travis Walton UFO story remains one of the most well documented stories of all time commemorating the 40th anniversary of this incident.
Jennifer W. Stein has made a definitive documentary about Travis Walton. This film has been two years in the making and was the highlight of the 40th Anniversary conference in Arizona. For more information about the conference, visit: www.Skyfiresummit.com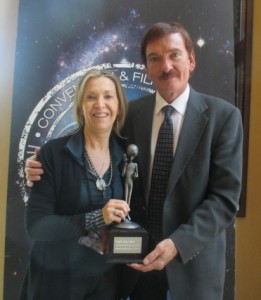 WINNER – 2015 EBE Film Festival at the International UFO Congress held February 18-22, 2015, the world's largest UFO conference.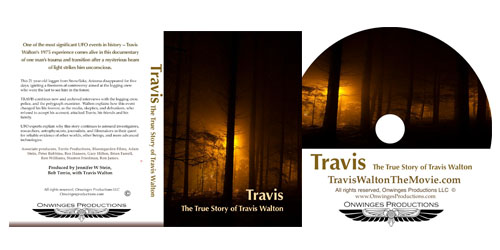 Travis: The True Story of Travis Walton, recounts the experiences of the work crew that day in the forest and the weeks that followed this incident. They and Travis struggled to make sense of the event enduring humiliation, and job losses. Travis has encountered lifelong ridicule regarding his experiences.
"Someone needed to tell the real story in film, and the time was now in honor of the 40th anniversary of this event" said Jennifer.
"This is why I undertook the making of this film with Travis as my key witness along with the other men of the work crew and experts in the field. We explored this experience together in a collaborative approach."
Bob Terrio is co-producer with numerous production companies providing special effects, artwork, animation, and re-enactments to bring this story to life as it has never been done before.
George Knapp from KLAS-TV Nevada and Coast to Coast AM radio, answers questions from Associate Producer Peter Robbins about Travis Walton, and his experiences in 1975. This is a recorded Skype interview from September 16th 2014.
Meet the producers!
Saturday, January 16-6 pm
The Philip K. Dick Film Festival
Village East Cinema
181-189 2nd Avenue
New York, NY 10003
Philip K. Dick Film Festival
Sunday, January 17-3:30 pm
Irvine International Film Festival
Laguna Hills Mall Cinema
24155 Laguna Hilils Mall
Laguna Hills, CA  92653
Irvine International Film Festival
As an experienced logger, Travis Walton explains the rapid tree growth, which occurred after the incident.
I viewed "The True Story of Travis Walton" with great interest. Jennifer Stein did a commendable job of documenting this remarkable account. It is yet another reminder of the urgent importance of bringing about full disclosure by all governments of their complete files and physical evidence concerning UFOs and extraterrestrials.
Dr. Edgar Mitchell-Astronaut
Apollo 14 Mission