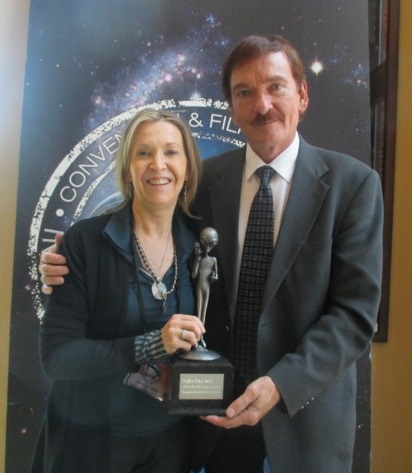 WINNER – 2015 EBE film Festival at the International UFO Congress held February 18-22, 2015, the world's largest UFO conference.
TRAVIS combines new and archived interviews with the logging crew, police and the polygraph examiner. Walton explains how this event changed his life forever, as the media, skeptics and debunkers attacked him, his friends and family.
UFO experts explain why this story continues to astound investigators, astrophysicists and journalists as they investigate for reliable evidence of other worlds, other beings, and more advanced technologies.
About Onwinges Productions
Onwinges Productions is the creation of renowned Film Maker Jennifer Stein. A self-taught filmmaker who never went to film school, she first captured the life of her good friend, Rita Levin who died in a terrorist attack in Israel. Her film, a fund-raiser, dramatized the cause for women's legal aid in Carmiel, Israel.
Harnessing the power of the moving visual image to educate, inspire and empower, Jennifer uses film to help achieve important goals. Her interests are wide: peace projects, sensible gun ownership legislation, environmental awareness, and appreciation of ancient history,  archaeology, and artifacts, UFOs, crop circles, yoga, meditation, macrobiotics, and ESP to name a few.
Jennifer has been making documentaries since 1989. In 2012 Jennifer won two Open Minds International UFO Congress film festival awards for The Disclosure Dialogues with filmmaker Ron James.


In 2015, Jennifer won, two EBEs at the 2015 Open Minds film Festival for Travis: The True Story of Travis Walton, she co-produced with Bob Terrio, Ron James, and Zachary Weil.
This latest contribution to the film industry is the multiple award-winning "Travis- The True Story of Travis Walton" This definitive documentary film is about a 47-year history of events resulting from a startling UFO encounter in November of 1975 which forever changed the lives of 7 loggers who witness this event. There is a paper trail of evidence connected to this case that is a mile-long and covers 4 decades.
The result of powerful purposeful filmmaking.  Jennifer collaborates with other filmmakers and continues to seek out the truth of mysteries and questions unanswered.
Please browse her portfolio projects, the most recent:"Travis Walton – the True Story".