Jennifer & Michael Stein recently met with Cheryl Boone Isaacs, president of the Academy of Motion Pictures Arts and Science at the Bryn Mawr Film Institute's 10th anniversary celebrations.  Located in Bryn Mawr PA, it is a classic restored 1920 movie theater.
Jennifer gave Cheryl a copy of "TRAVIS, The True Story of Travis Walton." Cheryl worked at Paramount pictures during the 1993 release of Fire in the Sky about Travis's event. She was happy to know someone had finally done the true story of Travis's most unique UFO case.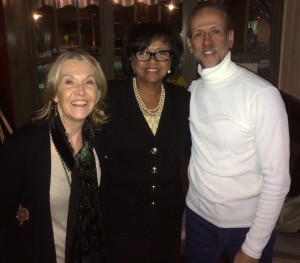 Contact information:
Executive Producer: Jennifer W Stein
Co Producers: Jenifer W. Stein , Bob Terrio, and Travis Walton
Onwinges Productions, [email protected]
Jennifer's cell: 610-613-0088
Synopsis: 
"Travis," a 90-minute documentary film recounts the now world-famous 1975 UFO abduction of Travis Walton and its impact on his life over the intervening forty years – and on the lives of others who were also involved. The film features interviews with all the living members of the original logging crew, along with archived interviews with nuclear physicist Stanton Friedman,  Travis Walton,  Mike Rogers, Stanford's psychiatrist Dr. Harder, Police Sheriff Marlin Gillespie, and former chief polygraph expert for Arizona Cy Gilson.
UFO experts Kathy Marden, Ben Hansen, James Fox, Richard Dolan, Peter Robbins, & Lee Speigel weigh in on the incident. As a human interest story the viewer understands how this event permanently impacted the lives of the logging crew, the role the media played in confusing the story for the public and how debunker Phillip J. Klass attempted to discredit the story. The film proves why this UFO incident remains so riveting.
Bio:
Jennifer W. Stein is a documentary filmmaker in the Philadelphia suburbs who has been a state section director for the Mutual UFO network for 14 years. She holds a BS from the University of Arizona in textiles and has been an entrepreneur most of her life. She operated a special events business for 15 years where she began filming events, and creating her own advertising  promos.
She also shot films for her daughters' graduating classes and not for profit organizations. The power of story telling became one of her skill sets, inspiring her passion to tell the most important stories for humanity — offering clues to who we are, why we are here, and how we traveled here.
Listen to the recent podcast with Jennifer Stein, Travis Walton and Paul and Ben Eno from Behind the Paranormal
BEHIND THE PARANORMAL WITH PAUL & BEN ENO
WOON 1240 Providence/Worcester/Boston and ONWorldwide.com
Monday Drive-Time Radio, 6-7 pm Eastern, 3-4 pm Pacific, 11 pm 12 am British
www.BehindTheParanormal.com
(888) 273-1941 (Ext. 3)
Join your host, David Twichell, 08-04-15: 1 - 2 PM: Tuesday Forum. We Are Not Alone. on WHFR.FM radio, when we explore the mysteries of the UFO and abduction phenomenon with our special guest Jennifer Stein
Jennifer Stein is a filmmaker and entrepreneur.  Her UFO documentaries have won 4 EBE Awards at the EBE Film Festival held every year at the International UFO Congress in Arizona.  Her latest documentary is entitled "Travis: the true story of Travis Walton."  His alien abduction incident on November 5th 1975 was one of the best investigated and documented cases in history, inspiring the movie "Fire in the Sky".  Jennifer and host David Twichell discuss her movie on this installment of We Are Not Alone.  Tuesday, Aug. 8 at 1:00 PM EDT